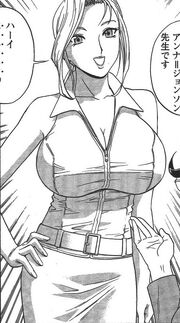 Anna Johnson 
is a character in Mo-Retsu! Boing Sensei. She is the english teacher and is from America.
Biography
Edit
Anna works as the English teacher at Sunny Campus High School. She is from America and has a strong interest in Japanese culture mostly samurai. Anna learned Japanese from watching Samurai dramas. She was first seen on a beach wearing two different skimpy swimsuits on different occasions there and flirted with Kono on both. She often acts wild and risque but ongoing and friendly.
She tends to wear the most revealing outfits in the series even when it comes to swimwear. She may have the largest bust of the cast.
Relationships
Edit
Kono Takeshi
Edit
She seems friendly with Kono but she often teases him. Often he tries to discipline her into a more proper submissive woman like punishing her for wearing a very revealing sling bikini and this turns her on since she thinks of it as part of Japanese culture. However, she also initiates sexual acts with him like beginning oral sex after reading a hentai.